24.07.2019
Kollmorgen Motors for Robotic Applications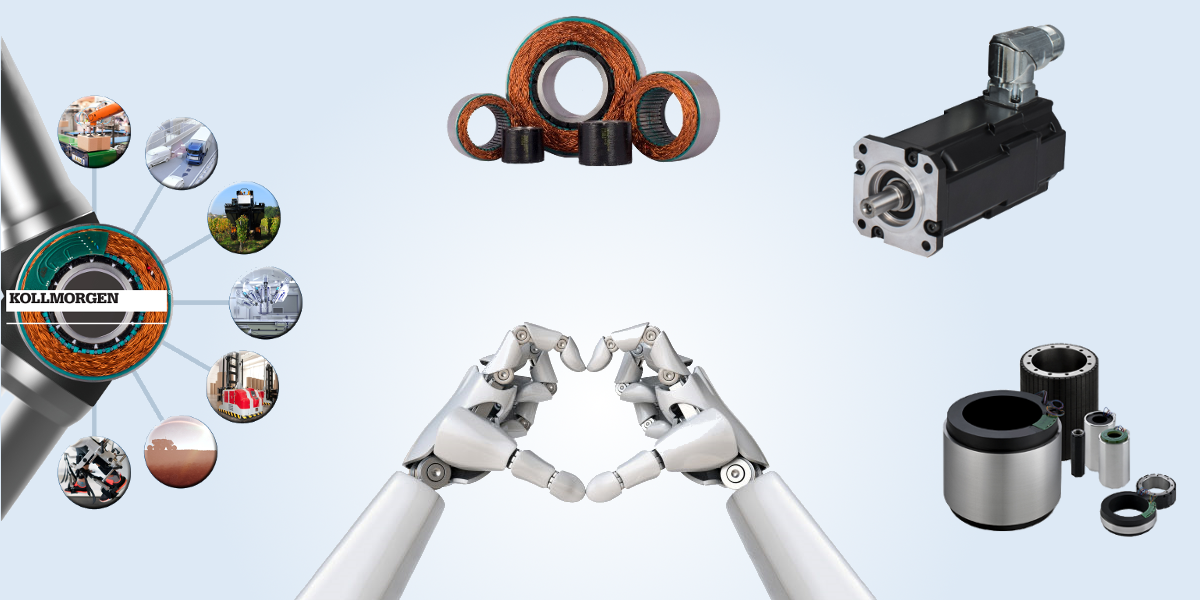 Kollmorgen servo, frameless and stepper motion solutions play a key role in a variety of robots, including collaborative robots, industrial articulated robots, medical robots and more. Kollmorgen motors are optimized for fit and performance with harmonic gearing and our industry leading torque density enables smaller, lighter and faster robots.For mobile robots, Kollmorgen's proven platform consisting of hardware, software and navigation technologies provide everything needed for excellent control of Automated Guided Vehicles (AGVs) whatever the application.
The company has been at the forefront of robotics innovation for more than 40 years, and know how to deliver on all the requirements for innovative robotics technology including:
Smooth, precise motion
A wide range of product sizes, voltages and capabilities
Standard options for optimizing motor designs
Optimized modifications to meet specialized requirements
Optimized packaging to meet space requirements
High power density to reduce size and system complexity
>>Download Robotic Motor Solutions Brochure
>>Download Universal Robotics Story
TBM™ Series
Kollmorgen TBM is designed to be directly embedded into machines, using the machine's own bearings to support the rotor. The low cogging torque means motion is smoother. The high-performance TBM motor is easily integrated into a wide range of robotic applications such as robotic joints, medical robotics, sensor gimbals, guidance systems, and other motion-critical applications.
Three frame sizes
Multiple stack lengths per frame size
Multiple windings per frame/stack combination
Hall sensor option
Multiple thermal sensors options
Stainless Steel yokes for maximum corrosion protection
RoHS Compliant
Short lead time
Webtool resource for customer system Performance
Ideal design for modular machines and flexible manufacturing Systems
KBM™ Series Frameless
The KBM™ Frameless Brushless Motors are high performance motors that can be directly embedded into your robotic application. With a large selection of standard motors—plus our ability to quickly and cost-effectively incorporate co-engineered modifications—you can choose an exact-fit motor that provides the highest performance in the most compact space.
Fully encapsulated stator windings
155°C internal winding temperature continuous capability
PTC thermistor overload protection
Rare-earth neodymium iron boron magnets
Fail-safe bands over rotor magnets
RoHS compliant
UL and CE agency facilitation
Optimizations include rotor hub dimensions, stack length, diameter, mounting features, windings, insulation, connection type
AKM® Servo Motors
AKM servo motor has high performance and efficiency that allows you to design a smaller and more compact manufacturing robot. Our AKM Servo Motors offer unprecedented choice and flexibility, such as optional 24 volt and 48 volt windings,and co-engineered modifications for an exact fit into your robotic design.
8 frame sizes, 28 frame/stack combinations
Speeds up to 8,000 RPM
75 VDC; 120, 240, 480 VAC windings
A wide variety of feedback devices, mountings and seals
Direct mate to most Kollmorgen servo drives
Windings are rated at 100°C rise over a 40°C ambient while using 155°C (class F) insulation materials
cURus, CE Compliant, UL Recognition, RoHS, Reach
Related Kollmorgen links: